Invest in a DQ Grill & Chill® Franchise
We've Got a Lot Going for Us
To many of our franchisees, the Dairy Queen® name represents a well-established, successful brand and timeless tradition. Whether you want to give back to your community or continue the tradition of serving great food and classic frozen treats, our franchise support team is here for you.
As a DQ Grill & Chill® franchisee, you can benefit from:
Industry-leading franchise support
Management and employee training programs
A modern restaurant aesthetic and menu
Sharing our tasty food offerings and world-famous DQ® treats
Strong customer loyalty and relationship with the brand
Robust brand presence with more than 7,000 locations worldwide
Great multiple-unit development market availability across the US and Canada
Our unmatched experience in the design and construction of restaurants
Sales opportunities across multiple dayparts
Thanks to our 85% consumer brand recognition, many fans will be waiting for your doors to open. Our name speaks for itself and our skilled corporate support team is ready to help you succeed as a DQ Grill & Chill® franchisee.

7,000+ Locations
Worldwide

85% Consumer Brand
Recognition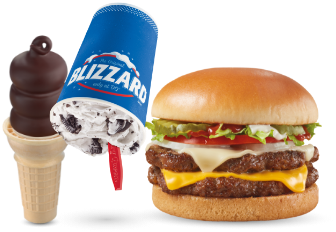 As a staple in communities, Dairy Queen® has always been committed to giving back to the neighborhoods we serve. When you join our incredible DQ® brand as a franchise owner, you'll have the opportunity to make a difference in your community as well!
As part of our partnership with Children's Miracle Network Hospitals, we donate millions of dollars each year to local children's hospitals in the U.S. and Canada. Each donation directly supports the local children's hospital serving kids and their families in your area. Since 1984, we've raised over $175 million for the Children's Miracle Network Hospitals through exciting fundraising efforts like Miracle Treat Day and more.
Help us continue to make an impact by becoming a DQ Grill & Chill® franchisee today! Explore our steps to ownership page and take the first one today!