View In English
View In French
Canadian DQ® Franchise Opportunities
Be a Part of Something Sweeter
Dairy Queen® Canada is proud to offer the franchise opportunity of a lifetime. If you love our frozen treats and have a passion for business, our experienced team can help you accomplish your goals.
As a member of our world-famous company, you can benefit from:
The best franchise support in the industry
Our simple, reliable franchise model
Employee and management training programs
Strong customer loyalty and relationship with the brand
Sharing our famous treats and delicious food offerings
A modern restaurant design and menu
Industry leading mobile app
Canadian Franchise Association Hall of Fame
Outstanding relationship with Children's Miracle Network®
Fill out our form today for more information about DQ Grill & Chill® franchise opportunities.
Possibilités de Franchises DQ® au Canada
Faites partie de quelque chose de plus… sucré.
Dairy Queen® Canada est fière d'offrir l'opportunité de franchise de confiseries glacés de vos rêves. Si vous aimez nos régals glacés et avez une passion pour les affaires, notre équipe expérimentée peut vous aider à atteindre vos objectifs.
En tant que franchisé de notre bannière mondialement reconnue, vous pourrez bénéficier de:
Un support/soutien du franchiseur inégalé dans l'industrie
Notre modèle de franchise simple et fiable.
Nos programmes de formation d'employés et de gestionnaires
Notre fidélisation de la clientèle et de sa relation de longue date avec la marque
Continuer à partager nos fameuses friandises glacées ou autres offres de nourriture
Un design de restaurant moderne et un menu en constant évolution
Application mobile supérieure de l'industrie.
Une Association d'une franchise canadienne qui fait partie du temple de la renommée
Relation primée avec le Children's Miracle Network
Remplissez notre formulaire aujourd'hui pour plus d'informations sur les opportunités de franchise DQ Grill & Chill®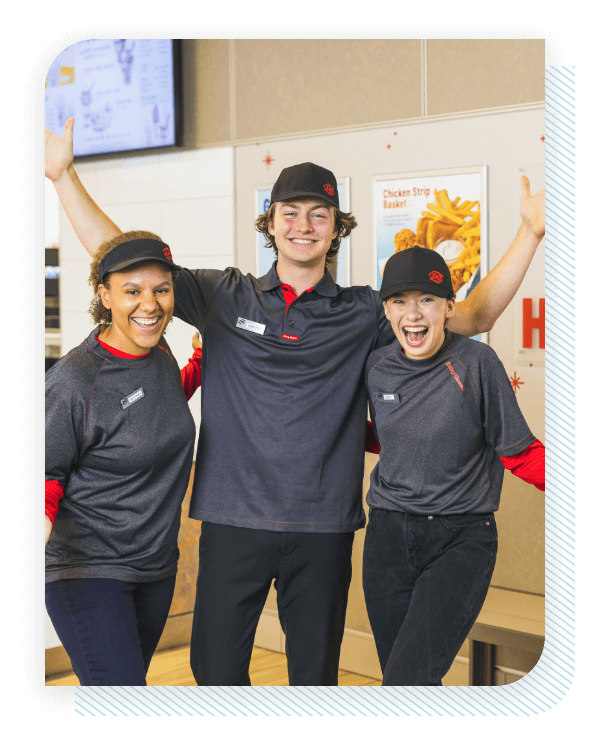 Investment Information
We've crunched some numbers for you. Here's a snapshot of the investment figures:
| | |
| --- | --- |
| Franchise Fee: | $45,000 |
| Royalty Fee: | 4% |
| Marketing Fee: | 5 - 6% |
| Term: | 20 years |
| Investment Range: | $914,500 - $3 million or more |
| Liquid Capital Requirement: | $540,000 |
| Net Worth Requirement: | $1 million (for a single unit) |
| Certified DQ Managers: | 3 |
More detailed information about Dairy Queen® franchise costs is available in our Franchise Disclosure Document.
Informations sur l'investissement
Nous avons fait quelques chiffres pour vous. Voici un aprecu des chiffres d
| | |
| --- | --- |
| Frais de franchise | 45 000 $ |
| Redevance | 4% |
| Frais de commercialisation | 5 - 6% |
| Période | 20 ans |
| Gamme d'investissement | 914 500 $ à 3 million ou plus |
| Capital Liquide requis | 540 000 $ |
| Exigence de valeur nette | 1 million $ (pour une seule unité) |
| Gestionnaires DQ certifiés | 3 |
Des informations plus détaillées sur les coûts de franchise Dairy Queen® sont disponibles dans notre document de divulgation de franchise.
Hot Markets
British Columbia
Ontario
Manitoba
New Brunswick
Available
Hot Markets
Not Currently Franchising
Alberta
British Columbia
Manitoba
New Brunswick
Newfoundland and Labrador
Northwest Territories
Nova Scotia
Nunavut
Ontario
Prince Edward Island
Quebec
Saskatchewan
Yukon