Our Ideal Candidate
What We Look for in Prospective DQ® Franchise Owners
Are you a passionate entrepreneur, driven to create something great in your community? Are you motivated to build a strong management team who will delight DQ® fans daily? Becoming a Dairy Queen® franchise owner might just be the perfect opportunity for you. With more than 7,000 locations around the world, Dairy Queen® is an iconic brand with dedicated customers that are loyal to their favorite treats.
Opening your own franchise requires significant commitment, so we select candidates who are well-suited to join the DQ® brand and represent it well. If you're considering owning a DQ Grill & Chill® franchise, it's important to know what qualities make for an ideal candidate. First and foremost, a passion for customer service is a must. A successful franchisee loves meeting new people and creating a welcoming environment for them.
The Dairy Queen® mission is to create positive memories for all who touch DQ® – and that goes for our franchise owners as well. Our vision is to be the world's favorite quick-service restaurant, and we are excited to bring new owners on board to help us realize this vision.
If you think you would make a great fit, explore our website further and then take the first step toward ownership.

Step 1 Inquiry

Get in touch with us online for more information about our DQ Grill & Chill® franchise opportunities. Our friendly team can provide you with all the information necessary to make a confident decision. You'll receive a copy of our current Franchise Disclosure Document (FDD), which includes additional and more detailed information regarding the franchise opportunity.

Step 2 Research and Due Diligence

We want to make sure you have a complete understanding of our franchise system so you can make a well-informed decision. We invite you to conduct as much research as you feel is necessary. Our team is also happy to address any questions or concerns you have.

Step 3 Application Process and Development Review Committee Approval

When you're ready to pursue a DQ Grill & Chill® franchise, talk with us about an official application. We will share any additional information regarding the qualification process.

Step 4 Store Construction and Management Training

Our franchise support team is made up of several individuals who are all uniquely qualified to assist you with the process of opening a DQ Grill & Chill® franchise. We will assist you with the design and construction of your restaurant as well as with the training of your management and crew members so you're fully prepared for your grand opening.

Step 5 Open Your DQ Grill & Chill® Location!

This will be the day a sweet new chapter in your life begins! Don't worry, our franchise support team won't be going anywhere. We'll continue to provide guidance including operational and marketing assistance to ensure your new Dairy Queen® franchise hits the ground running.

The Dairy Queen® franchising and restaurant development process takes an average of 18 months from inquiry to the store opening, depending mostly on the real estate conditions and the franchisee's motivation.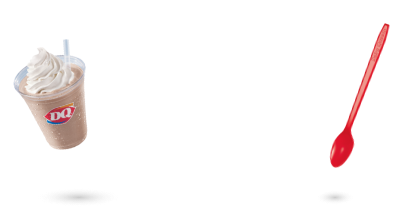 Successful DQ Grill & Chill® Franchise Owners
key attributes
A deep passion and unwavering commitment to the brand and the operation of the business
Strong leadership skills to manage, train, and develop a team of talented individuals
Sufficient financial and management resources to support the business plan and operation
A strong connection and engagement with the local community to drive effective local store marketing efforts
A strong connection and engagement with the local community to drive effective local store marketing efforts
Understanding of the local real estate market and knowledge of the development process
Strong business acumen and prior experience in restaurant management (if not, the option to partner with or hire someone with quick service restaurant experience is available)