Franchise Investment Information
Dive Deeper into Owning a Dairy Queen® Franchise
Do you love delicious food and frozen treats? So do we! We are proud to have helped thousands of franchisees discover their potential and maintain thriving businesses around the world. Whether you want to be more involved with your community or provide local fans with the same joy you feel every time you visit a Dairy Queen® location, our industry-leading franchise support team has the tools to help you become a DQ Grill & Chill® franchisee and reach your goals.
The DQ Grill & Chill® Experience
While we recognize the importance of preserving tradition, we also understand that a lot has changed since we sold our first treat so many years ago. The DQ Grill & Chill® concept is our flagship concept that was announced in 2002, and it has been booming ever since. Designed to strike the perfect balance between contemporary tastes and brand legacy, this timeless experience satisfies guests of all ages.
From our classic treats to our popular food items, you'll have the ability to satisfy virtually any craving. It's our goal to give fans all over the world a smile and a story to share.
Ready to learn more about the DQ Grill & Chill® franchise? Contact our team by filling out our form. We look forward to speaking with you about your background, goals, and our exciting opportunity.
Investment Information
We've crunched some numbers for you. Here's a snapshot of the investment figures:
| | |
| --- | --- |
| Franchise Fee: | $45,000 |
| Royalty Fee: | 4% |
| Marketing Fee: | 5 - 6% |
| Term: | 20 years |
| Investment Range: | $1,511,200 - 2,533,400 |
| Liquid Capital Requirement: | $400,000 (for a single unit) |
| Net Worth Requirement: | $750,000 (for a single unit; multi-unit requirements are higher) |
| Certified DQ Managers: | 3 |
More detailed information about Dairy Queen® franchise costs is available in our Franchise Disclosure Document.
DQ Grill & Chill®
Building Options
Core 46 Model

Seats: 46
Parking Spaces: 34
Building Size: 2,207 Sq. Ft.
Lot Size: 32,025 Sq. Ft.
Minimum Frontage: 149 Ft.

Core 60 Model

Seats: 60
Parking Spaces: 42
Building Size: 2,407 Sq. Ft.
Lot Size: 36,219 Sq. Ft.
Minimum Frontage: 144 Ft.

Core 0-24 Model

Seats: Limited inside seating
Parking Spaces: 16
Building Size: 1,745 Sq. Ft.
Lot Size: 24,921 Sq. Ft.
Minimum Frontage: 117 Ft.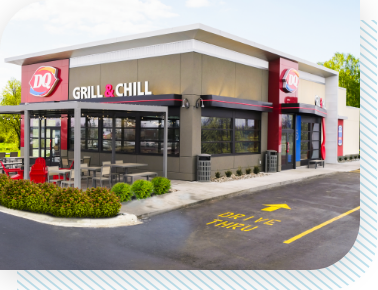 Learn More About
Our Available Markets
Our Dairy Queen® franchise support team is here to help you through every step of your journey. Whether you're looking to franchise in the United States, Canada, or international locations, there's a lot you can look forward to with a Dairy Queen® franchise.