About Our Dairy Queen® Franchise
LEARN ABOUT OUR EXCITING DQ GRILL & CHILL® OPPORTUNITY
Welcome to Dairy Queen®, a globally recognized food and treat company that values our customers and franchisees alike. We established the pace for franchising over 80 years ago, and since then we've catered to millions of satisfied customers worldwide, while preserving our legacy. We're delighted to share that we're ranked #16 on the 2022 QSR 50, and our brand enjoys an impressive 85% consumer recognition.
The Dairy Queen® brand expanded rapidly, growing from 100 locations in 1947 to 2,600 by 1955. In these early days of franchising we set a record-breaking pace and are proud to be one of the largest food systems in the world. Our franchisees love what they do and the relationships they have with our corporate support team. The Dairy Queen® brand offers the thrilling experience and resources you need along with the comfort and recognition of world-famous brand.
Our goal is to give every Dairy Queen® franchisee the same success story so they can become part of our timeless tradition and create excellent customer experiences for DQ® fans around the world.
Driven by Our Mission, Vision, & Values
At Dairy Queen®, there's more to our brand than just tasty treats. Our company values are at the core of everything we do, and with DQ®, you'll share in those values too.
We are on a mission to create positive memories for all who touch DQ®, from customers to franchise owners to the employees working behind the counter of every DQ® restaurant. Our vision is to be the world's favorite quick-service restaurant, and we intend to do that by staying true to who we are and the company values that have been guiding us for over 80 years.
Our company values include the following:
As a potential franchise owner, we'll look forward to sharing in the DQ®values together and working towards mutual success. Contact us today to see how you can share a beloved brand with your community. Let's make our customers smile and keep coming back for more!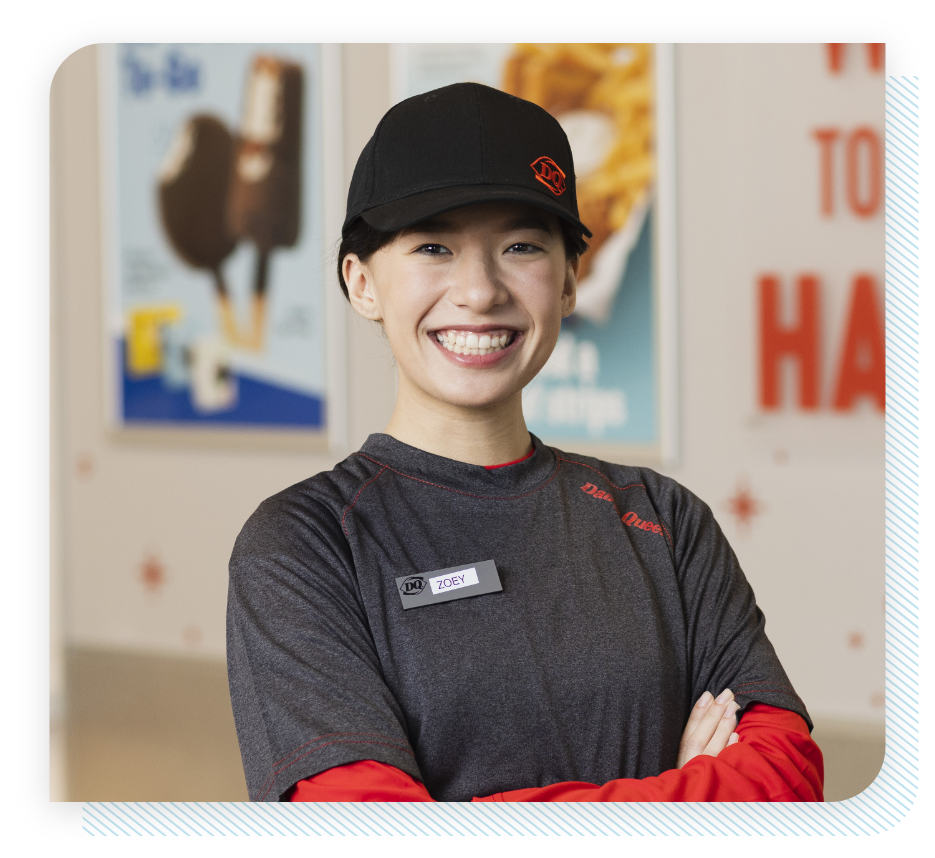 WORLD FAMOUS
World famous DQ® Treats and tasty food offerings.
A SMILE AND A STORY®
We have a strong customer base with a loyal relationship with the brand.
BRAND IDENTITY
Strong brand presence with over 4,000 domestic locations and 7,000 worldwide.
INDUSTRY LEADERS
Including franchise support, supply chain, development, operations, marketing, and training.
Owning a DQ Grill & Chill® franchise is an exciting and rewarding opportunity. Not only are you investing in a well-known and beloved brand, but you are also opening the door to a profitable business venture. By becoming a DQ Grill & Chill® franchise owner, you will gain access to industry-leading franchise support, marketing strategies, and operational processes designed specifically for the DQ® system. With us, you will join a community of talented people from around the world who share the same vision that has made DQ® an iconic brand.
If you are serious about exploring this opportunity, take the first step today toward becoming a proud DQ® franchise owner. We look forward to working with you and helping make your Dairy Queen® dream a reality!